On Wednesday, June 24th, I uploaded New Legends seed deck to SlideShare, with the intention of publishing it on my blog. I was planning to do it for months already but just didn't get to it.
Wait. That's not true. The truth was that I was a bit nervous posting it to the world after it only seen faces of investors, either in 1×1 meetings or over email. But eventually I convinced myself it was unimportant enough and uninteresting enough to mostly go unnoticed. Relieved, I went ahead and posted it online. I even went ahead and tweeted about it with a nice image: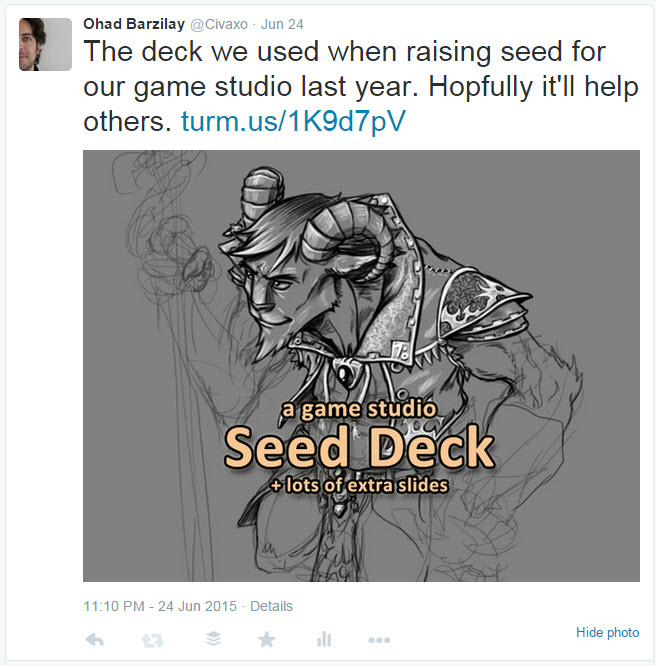 I went to sleep. I woke up.
And indeed I was right – it mostly went unnoticed, with only 14 views on slideshare (which also counts the embedded views as all links pointed to my blog post). Life was good.
Almost a week after, on Tuesday night, I felt a bit braver and decided to both tweet the link again (with a different picture, just for sake of A/B testing) and share it on Quibb.
For those of you who don't know Quibb, I suggest you'll read this. To put simply, Quibb, founded and managed by Sandi MacPherson, is a community of industry people sharing curated articles and resources daily. It's like having a few good colleagues you're sharing interesting links with, and is definitely the first place I go to daily for a quick fix of industry news/articles.
So I posted the link to the blog post (and deck) on Quibb.
I went to sleep. I woke up.
In the morning, a minute before packing the laptop and running to the office, I refreshed Slideshare analytics page since it was already open. And Holy Moses: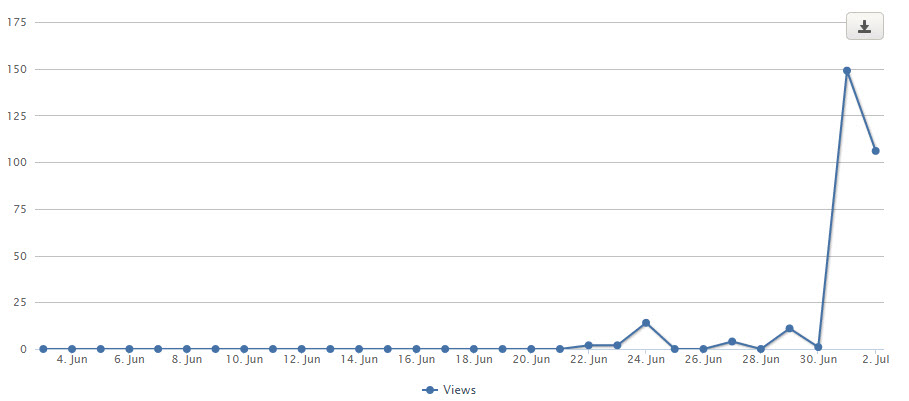 I had about 250 views for the deck. It looks like about 149 during the night of the 1st and 100ish in the morning. I was completely surprised but I had to run out. It was a Build Day at the office, and I had an early coffee meeting before that with a CEO friend wanting to bounce some ideas. I grabbed a screenshot to send Eitan, my co-founder of New Legends, and ran out. I was sure it had reached it's peak anyway. I mean, look at the graph, it looks like the peak is behind us already.
The day was hectic and I finally reached home around 8pm and took a little nap before my wife woke me up for dinner. Out of curiosity I went to check the slideshare stats. Holy Moses again. It was still going on strong!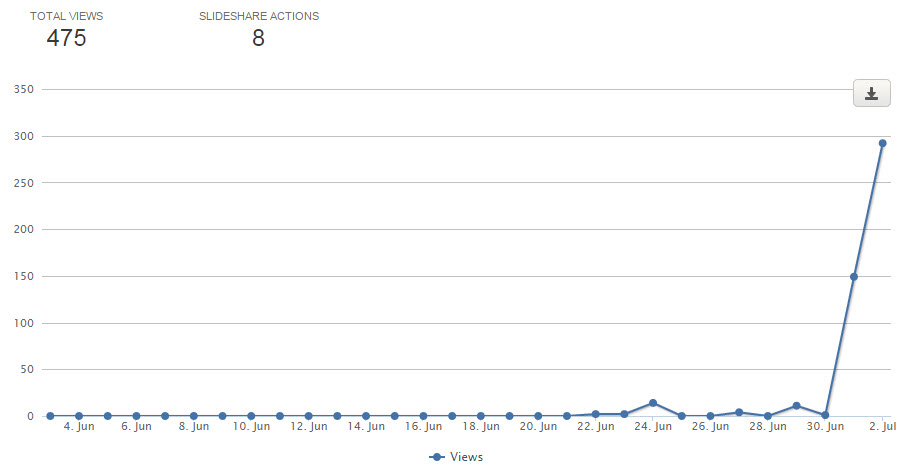 I decided this is worthy of analysing. It's obvious this traffic was triggered by the Quibb post, but I wanted to see numbers. I decided to let the traffic spike pass first so I could analyse this as a singular event. I also avoided publishing a link to the post anywhere else to avoid getting the data "dirty". This way, any other retweets and re-posting of the blog link can be safely attributed to Quibb.
The Quibb Effect
The link on Quibb was pointing to a post on my blog that had the Slideshare deck embedded. I used both Slideshare analytics and my blog stats (Jetpack plugin for WordPress) to analyse the traffic.
The Results
So, the bottom line. The spike in traffic from the Quibb post span 3 days, with Thursday being the peak.
In total the deck was viewed 542 times.
443 times as embedded deck in the Blog post (283 views came from clicking the Quibb links, 152 views from people returning/arriving to the blog post after discovering it through Quibb)
101 times viewed on slideshare itself
Next is the chart of the past week. The Quibb post was on the night of Tuesday, June 30, so the relevant days I analyzed are Wednesday to Friday (ignoring data from other days).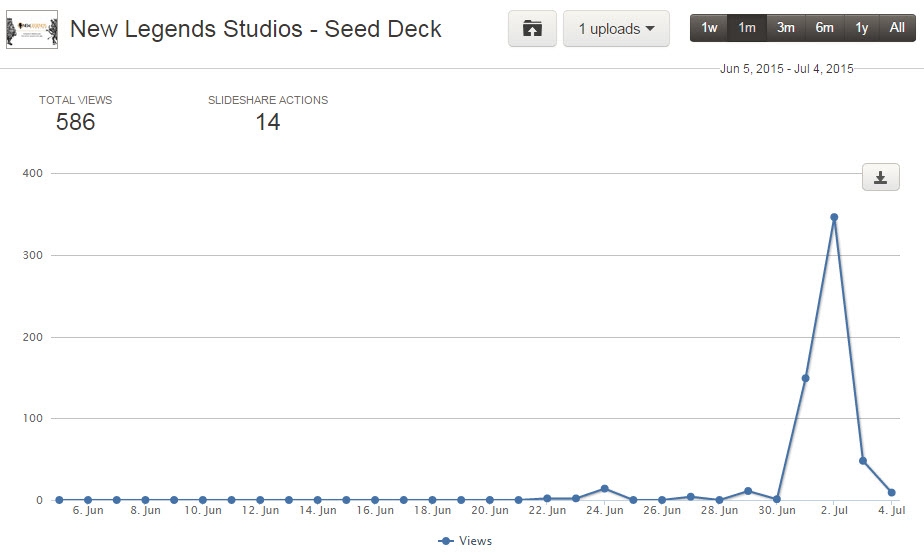 Still, the real kick is not the number of views. Beyond the quantitative measure, Quibb special power lies within the quality of it's  community. Random views are one thing. Quality views is a completely different thing. Quibb lets you see who of its members viewed every post, so you see their names, their positions and the companies they work for.
Within the views my post got, I had founders, CEOs, executives and managers from the following game companies: Rovio, Wargaming, Machine Zone, GREE, Kongregrate, Ubisoft, EA, Sony Computer Entertainment America, Behaviour Interactive, Wooga, Glu Mobile, GameHouse Europe, Zynga, FlipFly, TinyCo, Denki, codeSpark, Z2 and many others.
This is in addition to execs, managers and analysts from Amazon, Google, LinkedIn, TechStars, GameFounders, Tapstream, Kamcord, Deloitte, TBWA, Bloomberg, McKinsey & Company, IDEO, JPMorgan Chase, CBS, Tribune Publishing, Dell, Adobe Systems, Pearson, Duxter, Cue Ball Capital, Teralys Capital, Alta Ventures, Scribd and many others.
Sources Breakdown
It's no surprise most views were from the blog post itself (embedded):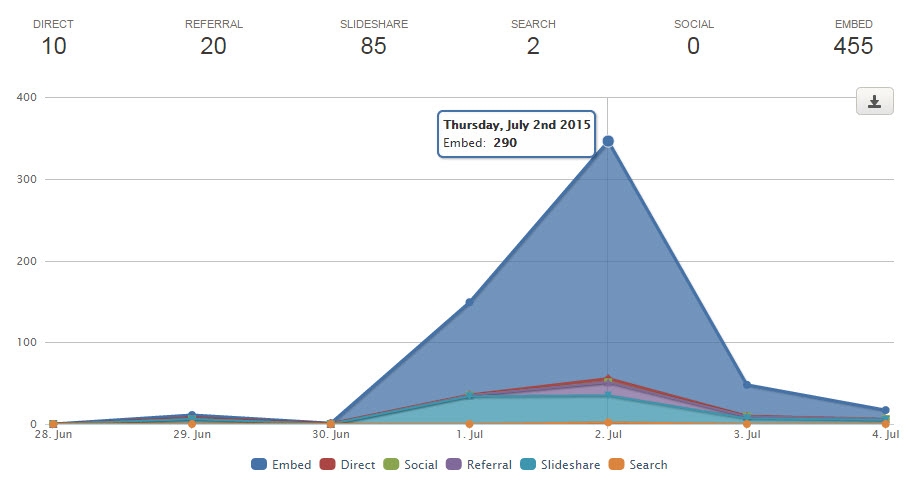 As to sources to the blog post, it was the Quibb site and/or daily email that brought in almost all the traffic, generating 272 of the 283 clicks to the post. Unfortunately I can't tell which internal Quibb source contributed the most – the post page on Quibb, the iFrame or the daily email. All those 3 appears as the same source (http://quibb.com/links/a-game-studio-seed-deck/view). I can, however, say that the tweeted link from Quibb account was, in this case, insignificant and generated only 10 clicks.
A clear majority of the traffic came for the US: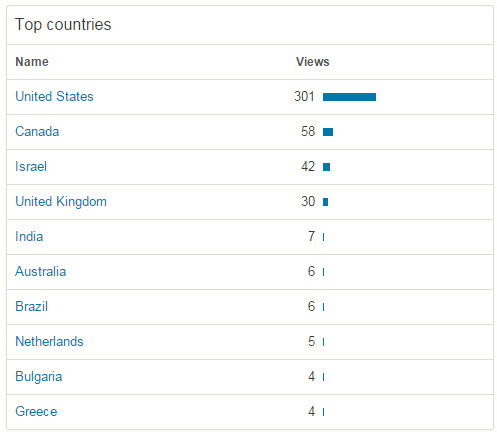 Finally, I analyzed the 3 days related to the traffic from the post: Wednesday (July 1st), Thursday (July 2nd) and Friday (July 3rd) and placed all numbers in the excel below, in case someone want to look at it.
Note that while I'm very confident about the total numbers I presented above, I'm a less confident here as I'm not sure what time zone SlideShare Analytics is using so I can't make sure it's identical to the one of my blog analytics (which is set to Jerusalem time). I'm pretty positive there is a discrepancy between the analytics systems timezone.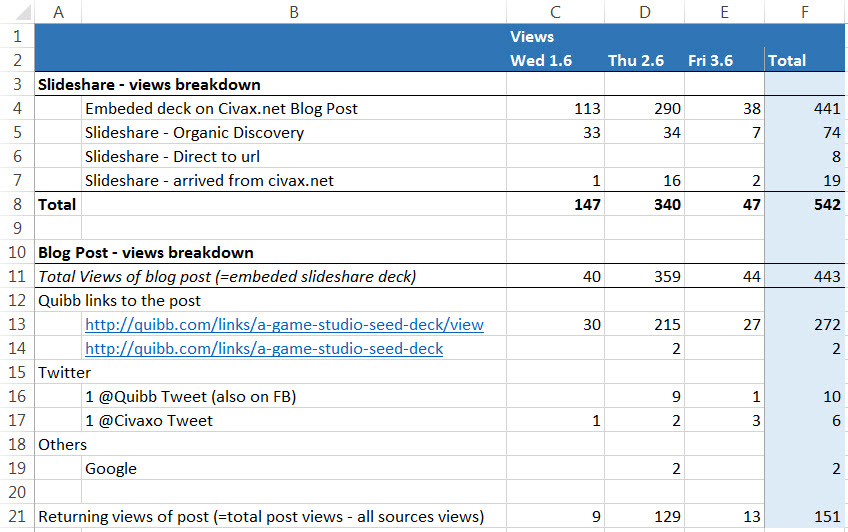 Click here to download the excel file.
Summary
All in all I definitely didn't expect to have so many people viewing the seed deck so fast, especially such a quality audience. The comments I got so far were all very positive and it even started some interesting discussions with some new people. If this is the traffic I got for a game studio seed deck (not the sexiest thing, really), this only proves Quibb is now a serious traffic source to consider.
Awesome work, Sandi. Awesome work.