I had my games copied/inspire other games in the past, but being copied by Zynga made me think about how game concepts come to be, and why Zynga (and others in our industry, lets face it) tends to copy rather than to innovate.
I'll write about how Slots Blast initially came to be, and how a new concept was born, while still being inspired by other games.
Maybe this post will trigger a follow-up post from someone at Zynga on how they designed Zynga Slots. (Feel free to take screenshots from Slots Blast, guys. 😉 )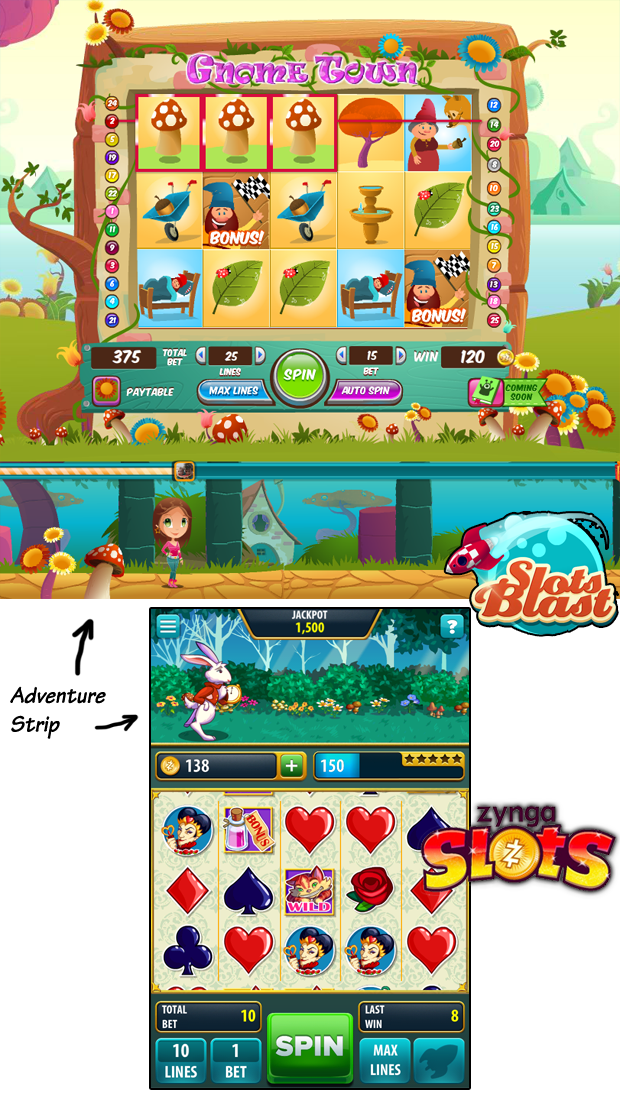 The initial design of what later became Mytopia's Slots Blast was done, as usual, under time pressure. The board at 888, our parent company, was pushing towards developing a slots game on facebook, based on good results we saw on our Bingo's slot machine, and – like everyone – seeing the success of Playtika's Slotomania game. Slots was also a natural direction for us, especially since we released a slots game on mobile in the past. This was in an already pressed period when we were about to launch a big title with external partners, which required a lot of management – and I was already having a full schedule as the COO and lead creative.
To make things worse, Barak, our CEO, managed to pull a jedi mind trick on me and I found myself promising I'll have the initial design ready before I leave for my trip to GDC Online in Austin. That gave me about a month. With the nearing big launch I had no designer available to delegate the task to. I decided to write the initial concept myself, and have it developed into a full design by the new designer, Dadi, that was suppose to join us around the time I'll be back from the US.
I have a loose structure I follow when researching a new game. First, I try to play every version of similar-enough game out there. I also try to watch other people play these games – even if that means to sit and watch lots of YouTube videos of people playing real slot machines. Sometimes just watching other people play give important insights. For a good design – even one good insight is enough.
In addition, being acquired by a big gambling company (888 holdings) about a year earlier, I had access to enough people who knew the slots world inside out, and they directed me to companies whose main business is to provide slots machines to online gambling companies. Mytopia never touched real gambling so most of these companies were unknown to me.
I used other people in the company as well, of course. While I couldn't take anyone for a long time off his tasks, I did ask a few people to do some free-play and share their experience with me. I used the two game designers we had in the company at the time – Yuval and Eitan – for whatever time they could spare. I also asked Nemo, a very experienced QA, to try the games. I knew Yuval and Eitan will look at the games from a similar approach to mine (analyzing features as game designers), but Nemo was the interesting unknown. Nemo had a very strong testing approach. He was pedant, he was thorough, he inspected every element in the games seriously. And he managed to notice some fine details which none of us game designers did.
After not-so-few days of playing (and watching) a lot of slots machines, I made a list of all insights/points of interest collected (this is a partial list):
I'm not the target audience. I'm not a real slots player – the game didn't appeal to me that much. That was important because I realized I'll need to identify key people that are, and test my ideas even deeper.
Despite point number 1, I found I still personally preferred playing specific slots games over all others. Interestingly enough, they were also the popular ones.
I played Slotomania more than any other FB slots. But I didn't care about the reels. I was actually a classic achiever type, just trying to constantly gain experience points and gain new levels. My eyes were fixed on the XP (Experience Points) meter, as it progressed and became full.
Slots machines are 'resources' expensive. The good ones take a lot of effort and time to draw but most users spend only a limited time in them.
Players gets emotionally attached to machines. A typical player will play the same 1-2 machines regardless how many machines are available. The only exceptions are new machines. Players will go play new machines whenever they become available.
I just LOVED Net Ent's Gonzo's Quest . It was a wonderful execution of a unique approach to Slots. I really loved the effort that went into the graphics and animations.
I also loved Net Ent's Robin Hood . It was as slick and beautiful as Gonzo. But I didn't really play it for long, while I could sit a lot playing Gonzo's Quest.
It was Gonzo's Character. In both machines I still didn't really care that much for the reels (except for admiring the art), but in Gonzo's Quest I kept my eyes on the Gonzo character that stands beside the machine and performed funny animations based on the results of each spin. It was magnetizing.
I came to the conclusion that one of the reasons Slotomania was so dramatically popular than any other slots game (and growing) was because it also appealed to players other than the just-gambling type. It was an assumption I will have to test.
Slotomania was also by far the most beautiful on facebook. The visual quality of the game was above all other slots games in Facebook at the time. (While on that, you should also check Mirrorballs Slots which was released later)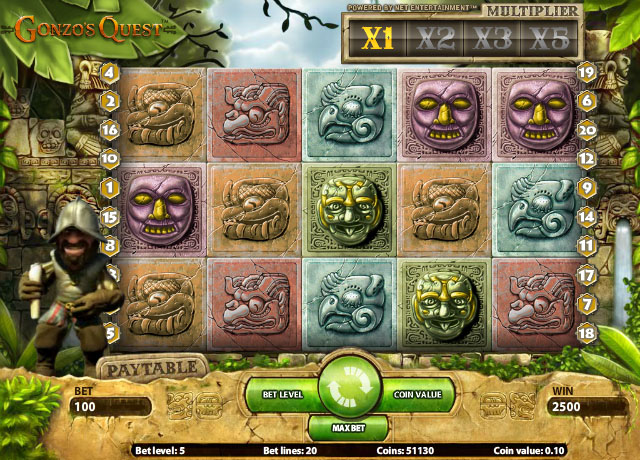 My conclusion was that we need to make sure we provide high-quality and visually attractive machines, to attract the core gambling-oriented players, but in order to really grow we need to attract other crowds. I decided to go for a concept that merges the clear-goal of filling the XP meter, with the magnetizing attractiveness of a character.
(I'm sure you can see how that led to the Adventure Strip, but in reality I still had a way to go)
Between playing slots games I had to 'refresh' my mind. I usually turned to Kongregate for quick sessions of simple flash games for that. I usually try new games but for some reason I mostly played games on my favorite list during that period. One of those games was Anika's Odyssey. I suggest you'll go and try it, but basically it's a point-and-click quest type game and the character progresses in the story while fluently moving in the world. Odd as it may be, the scrolling mechanics of the game were the inspiration to the idea of an unfolding scrolling story.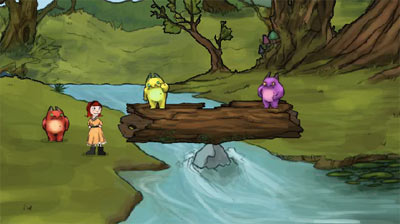 This pretty much established the base for the adventure strip idea:
We assumed that some of the casual players – being a bit different than the gambling-oriented type – might find the endless spinning a bit repetitious and boring after a while, and will be better motivated by a story that unfolds in the machine's world.

The basic concept was to turn the XP (Experience Points) bar into a story where the player's character is the hero. Every time a player press "Spin" she gains experience points which are based on the bet amount. Regardless of the spin result, she got the points. Those points are represented as an advancement of the character in the Adventure Strip. The higher the bet amount, the more points the player gets – and the greater distance her character progresses. The adventure strip art is closely tied to the slots machine theme and the player's character starts on the left and makes it's way to the far right. Reaching the end means the player had completed this machine and a new machine was opened.

This means that you have an extra motivation to play – every spin progressed the story and gets your character closer to the goal at the far right of the strip. Near the end of the strip the player might be so motivated to complete the goal she might not even look if she won a spin or not.

In addition, this opened up the opportunity to a character customization system as well as a shop – obvious monetization points.
So, this is how the concept was conceived.
When Dadi joined in and took over as the designer of the slots project he developed this from a rough concept document into a real proper design. He designed the machines as well as wrote what will actually be those stories that unfold. Together with Talia, the art director, and the team he had built the actual design of Slots Blast. He also designed all the REAL stuff, like the RTP of the machines, and all the mathematical models which actually makes a slots machine fun (or not).
Slots Blast had only a modest success so far, and I left the company before enough metrics were collected to determine if the Adventure Strip concept actually works. In addition, Mytopia took the adventure strip down recently for what I understood as performance issues, so there won't be any substantial data to analyze, anyway. for me, seeing that Zynga copied the original concept is actually a compliment. Another vote of trust in the idea, which I think has good potential, but still requires testing and optimizing. It will be interesting to see how Zynga Slots will fare in the next few months.
Hmm… So my initial Adventure Strip concept currently lives only within a competitor's game. Zynga's, no less. How weird is that? 🙂
More shots from Slots Blast: